Why women? | What does ALBOAN to support women in eastern Congo? | Help women
"Displaced women' in the Eastern Congo".
Why women?
The war in Congo turned the country into the world's worst inferno, claiming the lives of over five million people since 1998, with one million people displaced in 2013 alone and rape, used as a weapon of war, resulting in a hundreds of thousands of rape victims each year. Did you know that your mobile phone is linked to all this violence? The Congo is rich in minerals needed to make mobile phones, tablets…and armed groups would be unable to prolong the conflict without the money generated from the illegal sale of these minerals.
As a result, ALBOAN wants to place the spotlight on the many forms of exploitation and violence against women that are generated by this conflict and make the Democratic Republic of the Congo (DRC) the WORST PLACE IN THE WORLD TO BE A WOMAN..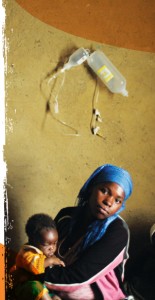 GENDER-BASED VIOLENCE AND SEXUAL EXPLOITATION
Women are consistently the victims of rape and abuse by all armed groups in a conflict and by men in IDP (internally displaced person) camps. In addition to psychological trauma, these women often contract serious diseases like AIDS. Many, due to the lack of resources in the camps, are forced into prostitution in order to survive. To make matters worse, society stigmatises and excludes these victims.
EXPLOITATION OF LABOUR

With no means of earning a living and families to take care of, many women are forced to take jobs as porters in the mines. Without any form of workplace safety these women work in conditions of semi-slavery.
EXPLOITATION OF EDUCATION

Displacement has created a large percentage of young girls who have never attended school. Uneducated and unemployed, they end up taking care of other family's children and household chores.


What do we do at ALBOAN to support women in eastern Congo?
Any project that wants put a stop to the chaos and impoverishment in the Congo will have to focus on women and their needs.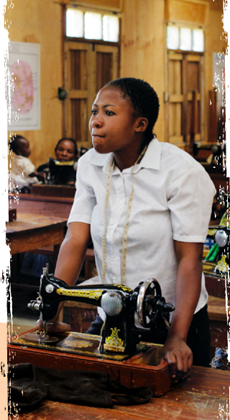 ALBOAN, the Jesuit NGO in the Basque Country and Navarre, works in eastern Congo to support the empowerment of women by backing the work of the Jesuit Refugee Service-Great Lakes (JRS) within IDP camps, promoting:
– Psychosocial support for adolescents and women who are victims of violence.
– Literacy courses, vocational training (dressmaking, basketry, carpentry, hairdressing) and helping them learn about their rights.
– Training adolescents who complete secondary school so that they can join the education network as teachers.
We have also joined forces with Synergies de Femmes (Synergie) to support women who are victims of sexual violence by:
– Creating shelters where women can seek health care, psychosocial support, group therapy, a temporary roof, and the ability to learn a skill that enables them to achieve economic independence.
– Training in skills that allow women to actively participate in decision-making processes, strengthening their leadership in defending their needs and interests and those of their communities.

How can you help?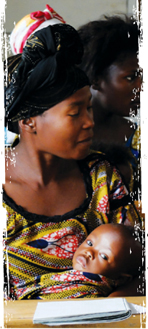 You can collaborate in helping women who are victims of violence in eastern Congo with a financial contribution that will go to supporting ALBOAN's projects in the region. Your contribution can make a difference. For example:
– 10 euros covers the cost of materials for literacy classes and the bag-making workshop for three women.
– 30 euros covers a day of leadership training to help women learn about and defend their rights and those of their community and train others in turn.
– 60 euros covers the medical attention for a women who is a victim of sexual violence.
– 2,000 euros can fully equip a shelter that helps women who have suffered sexual violence.
ALBOAN provides different ways to collaborate in supporting women who are victims of the conflict in eastern Congo: