¿What can you do? | Blank years | ALBOAN work

Discover the connection between your phone and out-of-school children in Congo

The eastern Democratic Republic of Congo is one of the most important mining regions in the world. The minerals extracted from its mines –gold, tin, tantalum and tungsten– are hidden inside our phones, tablets and computers.
Armed groups mine, process and sell these minerals, using the profits from their exploitation and illegal trafficking to buy more weapons to perpetuate the deadliest conflict since World War II.
There are 2.7 million displaced people living in the Democratic Republic of Congo in this climate of tension and instability, including children who have lost family members, their homes and the place where they could play and grow: school.
An estimated 3.5 million school-age children (6 to 11) and about 5 million adolescents (12 to 17) do not attend school.

Blank years: Years with no school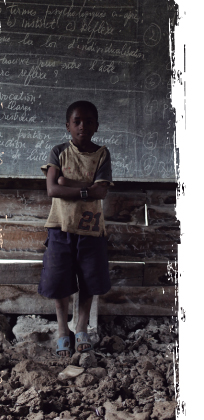 "I now have three blank years (without school). We have nothing but war. The war is every day. I don't have the means to study. I can't even buy a pen! So there's no opportunity for me to study".
Growing up without a quality education is the fate of many children displaced by war in North Kivu, where the Jesuit Refugee Service, ALBOAN's partner organisation, focuses its efforts.
The reasons are many:
Many families cannot pay the costs of schooling.
In other families, children must work to survive.
Orphans and unaccompanied children often have to fend for themselves and sometimes have to take care of their younger siblings.
In other cases, armed groups have destroyed school buildings and there are no safe spaces for children to learn.
Many girls and adolescents are forced to marry and leave school.
Many teachers do not receive salaries and end up quitting. At any rate, education is a fundamental and absolutely necessary right for a bright future.

Education is all about dignity
"I believe that education is all about dignity. It has to do with providing children – who have nothing– a way to participate in the society around them, safe from the violence in which they are immersed", says Sister Esperance Hamuli, education coordinator at the Jesuit Refugee Service in Masisi.
Education offers normalcy and order for children who have fled their homes, who have watched their relatives die and who have experienced the constant threat of violence.
Education not only teaches materials, but is crucial for building a different type of society in DR Congo.
This is why ALBOAN, the Jesuit NGO in the Basque Country and Navarre, works in eastern Congo to promote education wherever it is needed, providing support to the Jesuit Refugee Service-Great Lakes for the management of educational services in IDP camps:
New schools and school supplies
Teacher training and recruitment
Literacy courses, vocational training and teaching them about their rights
Creation of parent associations that become involved in the educational process
Psychosocial support for adolescents and women who are victims of violence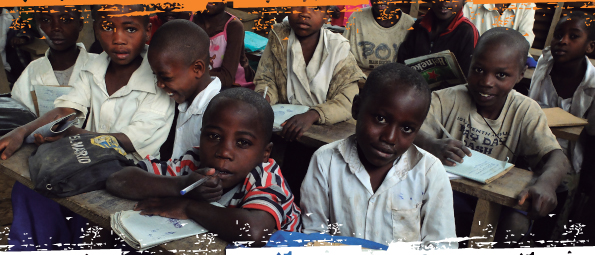 How can you help?

Your contribution will help us move forward with educational projects that help children and adolescents in IDP camps. Your help, coupled with the incredible team of professionals working at the Jesuit Refugee Service in Congo, brings hope back to the children of the Congo:
10 euros covers the cost of a school kit that includes a fabric backpack made by displaced women in DR Congo, with notebooks, pencils, pens, rubbers, etc.
30 euros can buy a food ration that includes staples like rice, oil, milk and sugar to feed a family.
600 euros provides an entire school all the materials needed for the teaching staff, as well as cleaning kits and recreational materials.
…………………………………………………………………………………..
ALBOAN provides different ways to help support the children and adolescents who are victims of the conflict in eastern Congo:
You can make your donation online right here.
You can become a member of ALBOAN.
You can transfer money to ALBOAN, including the word "Congo" in the payment reference.